There is Light and Darkness in everything.
Yesterday morning I told a friend that I feel the need to eat, not because I'm hungry but because I feel there is an emotional need to eat. In the simple terms, we call it Emotional Eating.
I experienced this need from time to time and yesterday's experience was difference. I noticed that the body doesn't really want to eat; but the emotions crave for all sort of food that I can think of. At one point, I realise that the body was feeling hungry, but it just wants to settle for a simple food. The mind, which react as a spoke-person to the emotions, thinks I need something super delicious to feed my stomach. As an Undefined Emotion person, this is how my Not-Self avoiding confrontation too.
So, I stepped back and see where this feeling is coming from. There were subtle hatred, dislikes and dissatisfaction that associates with others, that I can't get what I want on my terms (timing mostly), that I have everything I need at that moment, but it wasn't enough. And these related to the dissatisfaction and it is some form of inner resistance towards Life.
Between feeling all this and that, there was a void behind all these. The void leads me to understand something; I woke up to a feeling that I don't know what to do today even though I have lists of things that I need to do. The feeling that there is no flow to keep the energy moving that is torturing to the mind and therefore, set the emotions to feel discomfort.
This is what we do. Instead of sitting with this void and find out what it is, most of the time we have urges to fill the void with something (food, sex etc).
It is ridiculous as it seems, but this is what we all do from time to time and to an extend that we become numb to our emotions.
Instead of believing that I need to go out there and find myself with super delicious food, I let my Awareness figure out where this lead me to. I simply come to these conclusions:
Acknowledge What You Are Feeling.
The dissatisfaction that I feel is real. It probably a dormant feeling that hidden deep inside of me. Since it came up to the surface, maybe it's time to sit with these feelings and see if it wants to heal.
What the Void Really Is?
The feeling of void and 'no-flow' is a classic sign of an Individual Energy Stream (Human Design related). In individual energy, the energy flow moves in pulses. There are days we feel like nothing can be done and there are days, it is moving like a lighting. It is the period of 'no-flow' that makes Life seems stagnant and in a void.
The truth is, there is creativity and awareness are fertilising through the process. We don't see the seed become alive until it grows out of the soil as a sprout, do we? That doesn't mean the seed is dead. It is the same thing with an Individual energy.
I have one stream of individual and experiencing a Channel of Mutation (60-3) in my Solar Return. I'm pretty much have to learn to work according to the flow. From my experiences, I produced creativity after a period of stagnation.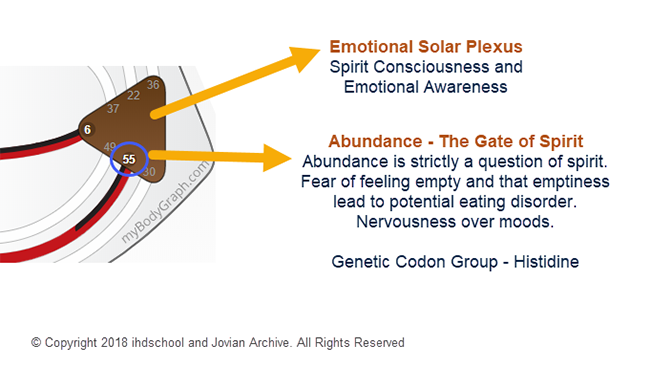 The Rise of Human Spirit Consciousness.
We are in the era where the frequency of the Universe is setting us to increase our Spirit Consciousness and Emotional Awareness. The downside of this frequency is emotional eating, which reside in Gate 55 – The Gate of Spirit (Human Design). And Gate 55 is an individual energy that has fear of Emptiness. That's the void that I feel. Emptiness over something.
If you look at the pattern around the world, this is where many people get obese or experience eating disorder too. How many people are dealing with fear of emptiness?
Now, we can't escape the frequency because this is not some WIFI thing. This is how Universe govern itself. Being part of the Universe, we can only learn this through evolution and education.
But before we get there, we are just like bunch of babies that turn into our mothers for food and comfort.
So be wise when it comes to emotional eating. You know when you experience it. It's okay to lose yourself and be emotionally moody about food and everything… but try to experience it with Awareness.
Human Design materials (keynotes and images) are © Copyright 2018 ihdschool and Jovian Archive. All Rights Reserved.